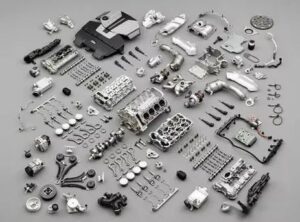 Along with the market environment and automotive trends change, auto parts products subsequently undergo adaptive changes. Overall, the trend of auto parts product changes can be summarized as high-end, lightweight, integrated and industrialized.
High-end – product, market double high-end
From independent brands to joint venture brands, and then to the international well-known brands to develop market support strategy, is a lot of independent parts companies to achieve high-end products, enterprises from weak to strong development route. In the first half of this year, many listed auto parts companies to achieve new products to replace imports as well as in joint venture brands, foreign brands supporting. For example, the star shares obtained a number of development tasks such as Audi headlights, VW LED headlights; Hongda High-tech is in the field of warp knitting fabrics to open up cooperation with Mercedes-Benz brand car manufacturers, to practice the development strategy in the high-end passenger car import substitution market.
Integration – from single product to product collection
In order to enhance competitiveness and risk resistance, most of the listed auto parts companies choose to develop with affiliated enterprises, from providing a single product to providing hardware and software in one system solution, more prominent in the field of power systems and automotive electronics. Based on D series high-end diesel engines and new energy strategy, Yunnai Power develops cooperation with Suzhou Green Control and Keliyuan to provide diesel hybrid power assembly system for customers. APEC is actively developing highly integrated technologies for active electronic safety control systems and advanced intelligent driver assistance systems (ADAS). Junsheng Electronics has become an overall supplier of intelligent human-machine interaction systems and high-end interior products through several overseas acquisitions.
Lightweight – material research and development is the most important
Lightweight high-strength steel and aluminum alloy have been popularly used in the automotive field, and new materials such as carbon fiber and plant fiber are also the focus of R&D for parts enterprises. In the first half of the year, APT accelerated the continuous supply of aluminum for automotive powertrain and body to meet the current development demand of lightweight automotive industry; the high-strength material lightweight steel ring developed by Risshang Group was applied to a large number of new energy vehicles; Ningbo Huaxiang, a traditional interior parts supplier, increased its investment in natural fiber and carbon fiber projects; Colburn Schmidt Aluminum Technology, a subsidiary of Huayu Automobile, even carried out aluminum casting in Germany. Colburn Schmidt Aluminum Technology, a subsidiary of Huayu Automobile, is also engaged in aluminum casting business in Germany, supporting high-end aluminum alloy engine blocks of many European brands.
Industrialization – Project landing New product incubation
The product structure of auto parts enterprises relies on product optimization and upgrading, and the smooth industrialization of new projects and products can only ensure that enterprises have strong profitability and risk response capability. In the first half of this year, Dongan Power products fully entered the M series era, to achieve the replacement of the old platform products and the transformation of customer structure, its electric vehicle reducer, the new T18R new transmission also smoothly match the mass production, corporate profits to achieve growth. Listed for one year Del shares, through the fund-raising investment to promote the industrialization of a number of projects, including electro-hydraulic pump, EPS motor, transmission oil pump, etc., is developing electric vacuum pump, high pressure electric electro-hydraulic pump, hydraulic retarder and other new products, all become a new profit growth point for the enterprise.